50 Websites That Pay You to Write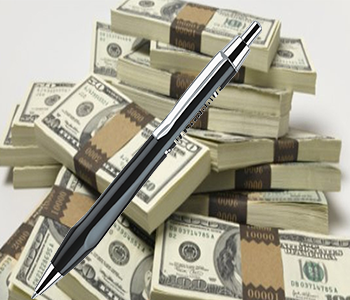 Are you someone who likes writing but doesn't have your own blog? Or perhaps you're just a freelancer who wants to make a little cash on the side. If so then the below list of blogs and websites that pay guest bloggers or freelancers should be a great resource for you.
This list is going to focus on a variety of websites and blogs that pay their contributors. They may even, depending on the quality of your work, hire you as one of their regular contributors.
This list of sites was created by a couple of metrics. I looked at the Alexa rank of the websites, how often they posted new content and the topics they accepted.
For the most part, you don't have to offer the perfect, highest quality articles for your stuff to get accepted. That said, if you own your own blog a few of the below websites (in addition to paying you) will give you a backlink to your website.
I did say that for the most part the below list doesn't require extremely high quality, and very lengthy articles. But the below seven do mostly because they are extremely reputable websites that have an impressive Alexa rank, thus get pitched stories all the time and only accept the best of the best.
It's not impossible to get an article accepted by these seven, but it is extremely difficult.
1. Examiner
Alexa Rank: 1239
Topics: Various
Examiner is news and entertainment website that allows readers to apply for a contributor position. Rates are dependent on writing activity and how much interest is generated from your article among the Examiner readership.
2. Site Point
Alexa Rank: 1308
Topics: HTML, Coding Languages (CSS, JavaScript, Ruby, PHP), Design and Mobile.
SitePoint, like other big websites, only accepts a small volume of articles or 'guest posts'. Typically articles accepted are extremely in-depth and discusses or analyzes recent trends, or tech, introduces readers to something new, lengthy tutorials which cover a specific topic step-by-step and has plenty of images and examples included, or interviews with top web 2.0 people.
3. Tuts Plus
Alexa Rank: 1005
Topics: Web Development, Adobe Illustrator, PhotoShop, Web Creation Software (WordPress), Video Game Design and Development, Photo Editing, Mobile, Music and Audio, Coding Languages, Business.
With TutsPlus you can submit either a course or a tutorial for review. Courses are typically very in-depth and they are video only. Tutorials are also in-depth and can be in written or screencast form.
4. Cracked
Alexa Rank: 703
Topics: Entertainment
Cracked is similar to Tuts in that they don't accept just articles. You can submit an article that you think might be worthy, but Cracked also accepts videos, Photoshops and even infographics. Like the previous websites, Cracked only accepts very high quality work.
5. About
Alexa Rank: 131
Topics: Lots
If you are looking for one website that accepts nearly every topic look no further than About. They accept pretty much anything ranging from Style, Entertainment and Religion to News, Education, Technology and Travel.
6. Break
Alexa Rank: 2015
Topics: Entertainment
Break is a bit unique in that you don't get to pick your own topic. Instead, Break will provide you with various article titles and you will pick one that suits you, then write the words to accompany it. After every month they will tally the number of articles you have written and deposit the appropriate (they don't tell you how much each article gets you) amount into your PayPal account.
7. Noupe
Alexa Rank: 11,812
Topics: Business, Design, Development, Photoshop, WordPress
Noupe is another website that pays for guest posts but requires extremely high quality content. Don't expect any "top ten X" type articles to fly, you really need a lengthy and informative article if you want to get it accepted on Noupe. They seem to especially like Design related articles.
Now here are some easier websites to get your article accepted to:
8. List Verse
Alexa Rank: 3767
Topics: Anything goes
Payout: $100
Listverse is probably one of my favorites on this list. With Listverse you are only limited by how creative you are. Pick any list topic you want and write about it, just make sure it's over 1500 words. Not only do you have plenty of topics to choose from, but you get $100 for your article, which is one of the largest payouts on this list, and as an added bonus you get a backlink to your own blog if you have one.
9. A List Apart
Alexa Rank: 9889
Topics: Design, Development
Payout: $200
Same with Listverse, Alistapart only accepts 1500 – 2000 words for guest posts. And while Alistapart pays out $200 for guest articles, they don't seem to post as much as many of the other websites on this list so you may have more trouble getting your article accepted.
10. Top Tenz
Alexa Rank: 25,425
Topics: Anything goes
Payout: $50
Yet another list website that gives you plenty of topics to choose from. TopTenz, unlike Alistapart, also posts a few articles a day so there is a good chance that (provided your post is well written) your article will be accepted. They also only accept high word count articles ranging from 1500 – 2000 words.
11. The Krazy Couponlady
Alexa Rank: 7078
Topics: Style, Fashion, Home, Travel, Entertainment, Gardening, Finance
Payout: up to $50
A bit of a unique website on this list. Thekrazycouponlady is a site that specializes in savings and only accepts articles that relate to how to save money. The good thing about this site is that you don't have to go too much in-depth like many of the others on this list as they only require 200 – 800 words.
12. International Living
Alexa Rank: 32,535
Topics: Overseas Living, Travel
Payout: $75
This blog is great for those who have recently visited or, more specifically, are living in another country. They simply want you to tell of your experiences in that country in 500 to 600 words.
13. Spyre Studio
Alexa Rank: 32,631
Topics: Web Design, Development, WordPress, Blogging
SpyreStudio is an outlet to write for if you are a web developer or know a lot about designing. Their stated focus is on CSS, Design, WordPress and blogging but they seem to mainly post about design. They also require a minimum of 800 words and any appropriate screenshots.
14. World Start
Alexa Rank: 65,881
Topics: Computer tips and tricks
Payout: $25 – $50
WordStart is a computer tips/tricks blog that has a payout dependent on how many words you write. You could write a shorter article of just 250 words for $25, or 400 words for $40, 600 words for $45 and 800 or more for $50. As a requirement, your submitted tip/trick article has to include step-by-step screenshots where appropriate.
15. Stretcher
Alexa Rank: 105,084
Topics: Money, Savings, Food, Auto, Clothing, Family
Payout: $0.10 per word
Dollar stretcher is mainly a website dedicated to personal experience and creative tips related to the above topics. They also only require 500 – 700 word articles and pay you per word, the average word count is around 600 words which will grant you a $60 payout.
16. Dropzone
Alexa Rank: 104,289
Topics: Skydiving
If you have skydiving experience and would like to write for compensation on skydiving related topics such as safety, gear and informative articles then Dropzone is a great place to turn to.
17. Crazy Leaf Design
Alexa Rank: 98,974
Topics: Design, Graphics, Programming Languages, Web Development, Flash, Photoshop, Top Ten List
You don't need any personal experience for this website as long as you have some knowledge of any of the appropriate topics. You can submit an article to CrazyLeaf or a 'top ten' list post.
18. Funds for Writers
Alexa Rank: 576,102
Topics: Writing
Payout: $50
This site is mostly related to how to write and make money writing. Posts are short and sweet so you only need to provide no more than 600 words to potentially get one of your articles accepted.
19. Photo Shop Tutorials
Alexa Rank: 37,478
Topics: PhotoShop
Payout: $25 – $300
This website is a bit unique since they allow, not only photoshop tutorials, but also articles and roundups as well as graphics. Payout depends on what guest posting method you choose, for article roundups the payout is $25 – $50.
20. Uxbooth
Alexa Rank: 45,580
Topics: Design
Payout: $100
Uxbooth is a design website who seem to take a lot of time into the article writing process which may not be ideal for those wanting to make a quick buck. They also seem to only post a few times a month making it difficult to get your article published.
21. Instant Shift
Alexa Rank: 13,853
Topics: Design
Instantshift is another popular design blog that accepts writers. Best of all, like a few others on this list Instantshift pays you for your writing in addition to providing a link back to your own blog, if you have one. They prefer you submit articles on a regular basis (part time or full time).
22. Hubpages
Alexa Rank: 873
Topics: Anything goes
Hubpages is another unique website since they technically don't pay you to blog, but you still make money through other means. With Hubpages, you write an article (preferably over 1100 words), then can display a variety of monetization links on your page such as affiliate links from Amazon and eBay as well as ad programs from Google Adsense or the 'in house' Hubpages ad program. So, instead of getting a flat fee, you get money based on how many people use one of your affiliate links or click on one of your ads.
23. Blog Mutt
Alexa Rank: 128,755
Topics: Anything goes
BlogMutt is great for freelancer writers as you get to write content for agencies who will then pick up that content (assuming it is high quality) and pay you for the post. According to the website, BlogMutt has an acceptance rate at 90%, some posts take a while to get picked up though. Also, you start to earn points every time you post, which levels you up and eventually grants you access to higher paying writing gigs.
24. iWriter
Alexa Rank: 9067
Topics: Anything goes
Payout: up to $15
Another great website for freelancers. With iWriter you are able to make money writing articles for other users. Registration is free and you can make up to $15 per article, working at your own speed (unless you have a deadline set by the buyer) and can select whichever topics that interest you.
25. Writtent
Alexa Rank: 54,851
Topics: Anything goes
Yet another resource for freelancers. Writtent is similar to BlogMutt, it's a content marketing company that provides other websites/businesses with in-depth articles provided by their writers. They only accept English writers and don't advertise how much they pay, though it's a safe bet to assume they pay similar to other content agencies.
26. Ghost Bloggers
Alexa Rank: 239,283
Topics: Anything goes
Payout: $3.5 per 100 words
One other possible content connecting website for freelancers. GhostBlogger is a marketplace for freelancers to write high quality content for buyers. There is not a minimum of how many words you have to write since you earn $3.5 per 100 words, so the more the merrier. You are also able to set a different price for all of your articles.
27. BKA Content
Alexa Rank: 485,983
Topics: Anything goes
BKA Content is another content providing company for bloggers and businesses. You have to speak English and be a citizen in the US to apply. If you get you application approved then you can start writing and expect to be paid every other week. As for payout, they claim that the average amount their writers make is between $12 and $18 per hour but all new writers start out at the beginner rate of just a penny a word.
28. Travel and Leisure
Alexa Rank: 5079
Topics: Travel
If you'd like to write about travel then Travelandleisure is one of the better options since they are always posting articles and have an impressive Alexa rank. In fact, most of their articles are written by freelancers and you get paid immediately after an article is accepted.
29. Budget Travel
Alexa Rank: 19,951
Topics: Travel
While not as popular as Travelandleisure, Budgettravel is still a great alternative if you are looking to get a travel article published. The only difference between them and many others on this list is that they require you to submit a pitch before emailing a full article and they require a link to previous work as well.
30. Writer Access
Alexa Rank: 35,174
Topics: Anything goes
Writeraccess is like a few of the others in that it is a freelance type website that connects you with buyers. This one can be a bit annoying though since they require you to go through this vast resume process, needing things like background and industry experience. They also pay based on what your star level is 1-5.
31. Developer Tutorials
Alexa Rank: 298,525
Topics: Programming Languages, Linux, MySQL, Illustrator, Photoshop
Developer Tutorials is another web development blog that accepts articles on programming language tutorials for compensation based on the quality of the article. They don't seem to post that often though so you may have trouble getting your article accepted.
32. Love to Know
Alexa Rank: 6094
Topics: Money, Fashion, Shopping, Entertainment, Family, French, Home, Appliances, Bedding, Games, Technology, Health and more
An information website that seeks experts on a variety of topics. Lovetoknow has quite a few topics to choose from and are on the lookout for new writers. You have to complete a "writers application", including a resume, a link to previous work and two short writing examples.
33. Online Writing Jobs
Alexa Rank: 315,922
Topics: Anything goes
Another freelance outlet. Online writing jobs is a place for businesses or blog owners to turn to in order to find a writer or writers for various web content. They advertise as one of the highest payout rates in the industry and process thousands of projects every year.
34. Crowd Content
Alexa Rank: 58,411
Topics: Anything goes
Crowd Content is a freelancer haven. Like many of the others, simply sign up, apply for the various client demanded jobs and get paid. Pricing for clients is determined by stars ranging from 2.2 to 12 cents per word.
35. ibpublishing
Alexa Rank: 664,345
Topics: Many
ibpublishing is a unique freelance outlet since they don't require you to 'hunt' for your next assignment. Instead they will assign you the appropriate topic based on what topic you signed up for which range from immigration law and weddings to shopping and automotive.
36. Matadornetwork
Alexa Rank: 6337
Topics: Travel
Matador is also a bit unique since they allow you to submit either articles, photos, or videos related to other parts of the world. Unlike some of the other websites here, Matador has a maximum word count of 1500 words for your articles and pays you on a case-by-case basis with the standard fee of $20 or $25, but some special cases can make up to $60.
37. Literacy Traveler
Alexa Rank: 876,275
Topics: Travel
Not the most popular travel blog, liberacytraveler is still a decent alternative if you can't get your travel article accepted anywhere else. One great thing about them is that they accept, not only travel articles, but book reviews, hotel profiles, hotel history and gear related posts.
38. World hum
Alexa Rank: 317,488
Topics: Travel
Yet another travel blog. Worldhum doesn't post as often as they used to but it's still possible for you to get something accepted on the website. They also don't specify how much payment you get per article. You don't have to submit just articles to this site either, you can submit slideshows or videos as well.
39. Demand Studios
Alexa Rank: 49,265
Topics: Business, Education, Technology, Careers, Fitness, Health, Culture, Parenting, Travel, Family, Real Estate, Home, Gardening, Auto, Pets
Demand Studios is great for freelancers who want to get paid weekly. It's also one of the few freelancer outlets that allow you to put your blog URL and bio alongside some of your work. While it's not an "anything goes" freelancing website (you have about 20 topics to choose from), it is rather easy to sign up, no resume or writing examples needed.
40. Zerys
Alexa Rank: 39,611
Topics: Anything goes
Zerys isn't the most popular freelancer writing outlet, it also requires you to go through a pretty lengthy application form which takes about 30 minutes to complete. Still, once you get accepted you can write articles related to pretty much any topic.
41. Fiverr
Alexa Rank: 346
Topics: Anything goes
A very popular website that offers 'gigs' to users starting at just $5. The real bread and butter for sellers is the addons that usually go between $5 – $20. There are plenty of writing gigs being sold so this may be a very profitable source for freelance writers.
42. Article Sale
Alexa Rank: 469,069
Topics: Anything goes
This is another fun and unique article website. With Articlesale you provide the article (topic of your choice) and Articlesale promotes it until it gets sold.
43. The Penny Hoarder
Alexa Rank: 5295
Topics: Saving, Earning and Investing Money
Payout: $100 – $500
This is a very unique website when it comes to payout. Penny Hoarder pays you depending on how many page views your article gets. When your post gets 50,000 page views you will be paid $100, when it gets 100,000 page views you get $200 and when/if you get to 250,000 page views you earn $500.
44. College Humor
Alexa Rank: 1931
Topics: Entertainment
Payout: $25
College Humor accepts funny articles. It may be a bit difficult to get accepted but if you do they pay $25 plus an additional bonus depending on how many page views your article gets.
45. What Culture
Alexa Rank: 3044
Topics: Entertainment, Sports
Payout: $25 – $500
What Culture is a very popular, UK based magazine that covers a range of topics. Every day they post articles from dozens of writers, published on topics ranging from Music and Movies to Sports and Gaming.
Other Websites
46. Freelancer – A very popular freelancer website that allows you to bid on projects by other users.
47. Elance – This is another very popular alternative to freelancer that functions the same.
48. Odesk – Yet another alternative to Freelancer, though I always preferred Elance or Freelancer.
49. Funds for writers – 500 to 600 word articles for $50 a pop. Not bad.
50. Your online biz – $100 per article.