Top 4 Cheapest and Most Dependable Web Hosting Services
So you are looking for cheap web hosting right? But you also want your hosting to be reliable in addition to being cheap.
So where do you turn, what are the best cheap, but also reputable, web hosting services?
After all, low cost does not always have to mean horrible quality. Instead you should look for the most cost effective web hosting options, but also ones that you can depend on.
You may be tempted to turn to "free" web hosting services, but that isn't a great option for those who want a professional website. Choosing a free option either involves being extremely limited in your bandwidth usage among other things or having a .blogspot or .wordpress.com extension tacked onto your URL.
This not only isn't professional, it also limits you immensely when it comes to precious web traffic.
After I started my first website a few years back I had very little knowledge of what web hosting was. So, like many, I went with the absolute cheapest solution I could find and ended up regretting it. I choose a smaller web hosting company called HostMetro and had to deal with constant downtime of my blog (which drove away visitors) and horrible customer support.
After a few months of major annoyances such as little to no organic traffic (in part because of my horrible web host) and more than a few mistakes relating to SEO I decided to shut my blog down.
I've learned from that mistake and instead of choosing the 'cheapest' web hosting I can find, I choose the cheapest and most reputable web hosting service I could find. In other words, take all of the highest rated web hosting services and choose the cheapest out of that lot.
Cheapest but also dependable web hosting companies, what to look for?
When you are searching for the best but also cheapest web hosting service for your WordPress blog you should be looking out for a few key things
Some of the factors/questions you need to be asking and considering are:
What is the price of the service and how much do you save by using this hosting service? It's not enough to just ask what the price is. For example, some hosting services offer a free domain name for life when you sign up, which ends up saving you $10-$15 per year.
Can you easily upgrade? As your blog gets older, you will eventually need to upgrade to keep up with all of the new traffic. Make sure your chosen web host offers upgrades hassle free.
Any bandwidth limits with your chosen hosting service?
Is it easy to install WordPress and other software?
GreenGeeks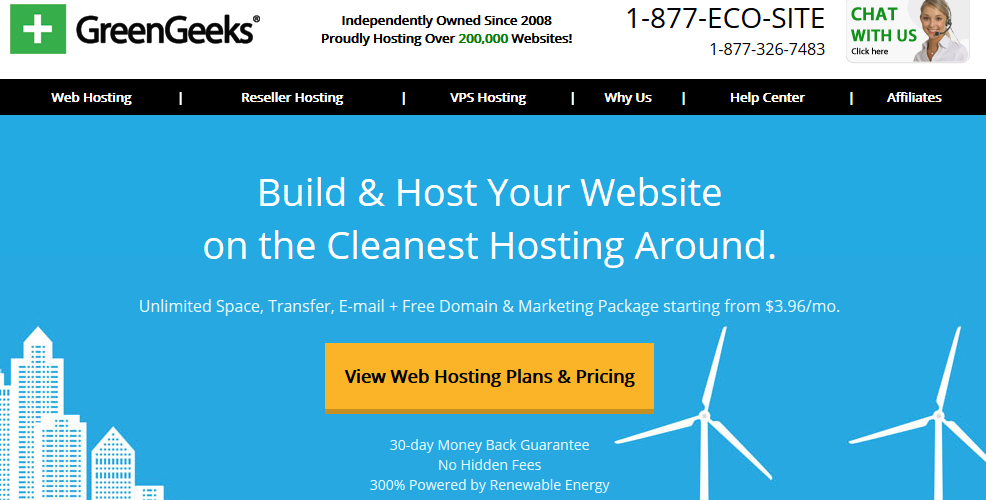 GreenGeeks, as the name implies, is a green energy web hosting solution that serves over 200,000 websites. Started in 2008, GreenGeeks has become one of the fastest growing web hosting services and is also the hosting service that this blog uses.
There are a number of reasons why I choose GreenGeeks as this blog's hosting service. Research is always key and I've found that GreenGeeks has one of the better user ratings. They also save you quite a bit of money in the long run since they (unlike the majority of web hosting services) give you a free domain name for life when you sign up. This saves you a good $10-$15 a year.
Uptime is another factor that you need to consider when shopping for the best web hosting service. Like most reputable hosting companies GreenGeeks promises a 99.9% uptime guarantee. That guarantee (for me at least) has been upheld as I only recall one brief moment of downtime for this blog.
One other thing this web hosting service has going for it that others typically don't is that they offer a completely free website migration service. So if you are currently on a bad web host (like Host Metro) and want to transfer to Green Geeks you can do so free of charge.
Notable Features:
Unlimited Bandwidth
Free domain name for life
Free website transfer
Free one-click install scripts for WordPress, Drupal, Joomla, etc
Money back guarantee
Arvixe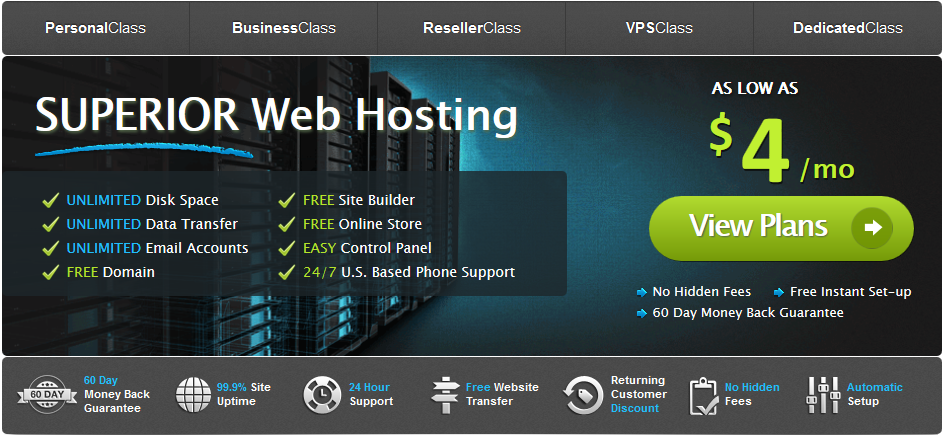 This is another great web hosting option and one that I've used in the past. Arvixe is in many ways a lot like GreenGeeks. They are both roughly the same price ($4/month), both have great user ratings left by customers, both have unlimited bandwidth and most notably both give you a free domain name for life when you sign up.
Like Greengeeks, Arvixe offers free website migration, but they take their free goodies a step further and give all of their customers an impressive $200 worth of advertising credits. When you sign up for any shared hosting plan you get a $100 Google Adword voucher and a $100 Yahoo/Bing voucher. Using these can help get you a jump on non-organic traffic and may even boost your social media followers.
Like nearly all web hosting services, Arvixe has a way to easily install the software you need (such as WordPress) with its one click-install scripts. You also have the option to include a few addons with your hosting package such as a dedicated IP Address and an SSL Certificate.
Notable Features:
$200 worth of Adword credits
Free domain name for life
Option to include addons with your hosting package
Unlimited bandwidth
Free one-click install scripts
Free website migration
60 day money back guarantee
iPage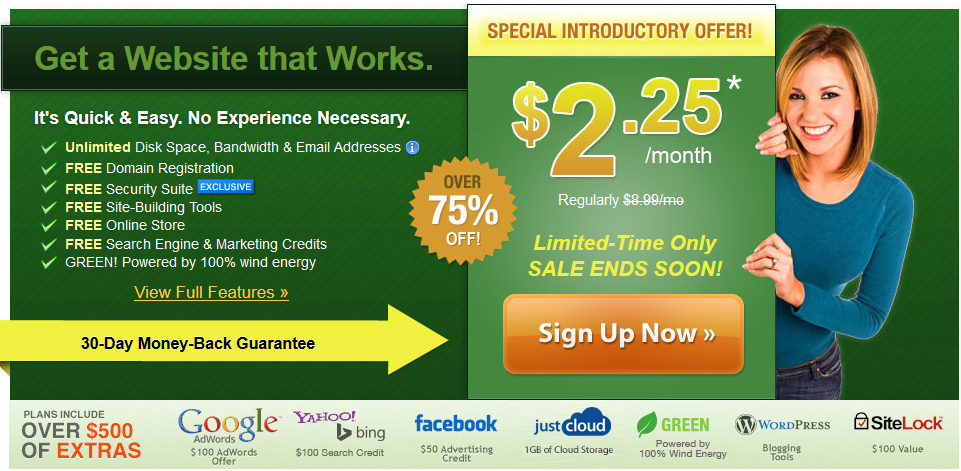 iPage is the cheapest web hosting service on this list with plans starting at just $2.25 per month. They are also one of the most popular web hosting companies with over 1,000,000 customers.
Not only are they cheap but they give customers a lot when they sign up. iPage gives away a whooping $250 worth of advertising credits which include $100 in Google Adwords, $100 in Yahoo/Bing credits and $50 Facebook credits. They also have a 30 day money back guarantee policy.
All of the basics are included with iPage such as unlimited bandwidth, one-click install scripts and even a toll free number if you are running a business. The only "bad" with this hosting option is that they use the vDeck control panel instead of the popular cPanel. iPage also only gives you a free domain name for one year.
Notable Features:
Free domain for one year
$250 worth of advertising credits
Unlimited bandwidth
Money back guarantee
Toll free number for your business
Hostgator

I've used this hosting before. I did so for no other reason that the fact that they offered a way to pay on a monthly basis instead of dropping a huge sum for a year of hosting as soon as you sign up.
Hostgator, while a tad more expensive than other hosting services (starts at $3.96 per month but doesn't include a free domain), did not disappoint. They are considered one of the largest web hosting companies with over 9,000,000 customers.
Hostgator has a lot going for it, but lacks at least one core feature that other hosting services typically offer. This is the only hosting service on this list that doesn't at least give a a free domain for a year. When you sign up with Hostgator you will be charged $12.95 per year for your domain name.
With the exception of not giving a free domain to their customers, Hostgator has all of the other features and goodies you would typically find in a reputable web hosting service. They offer $100 in Google Adword credits, unlimited bandwidth, one-click install scripts for things like WordPress, a 45 day money back guarantee and a 99.9% uptime promise.
Notable Features:
99.9% uptime guarantee
45 day money back guarantee
One-click install scripts
Unlimited bandwidth
$100 worth of Google Adword credits
And here is a (hopefully) helpful comparison table that will assist you in deciding which web hosting service is right for you:
| Cheapest Web Hosting | | | | |
| --- | --- | --- | --- | --- |
| Lowest Price | $3.96 / month | $4 / month | $2.25 / month | $3.96 / month |
| | | | | |
| Free Domain Name | | | One Year | |
| Bandwidth | Unlimited | Unlimited | Unlimited | Unlimited |
| Disk Space | Unlimited | Unlimited | Unlimited | Unlimited |
| Number of Domains | Unlimited | 6 | Unlimited | 1 |
| Advertising Credits | None | $200 | $250 | $100 |
| Mail Boxes | Unlimited | Unlimited | Unlimited | Unlimited |
| One-Click Install Scripts | | | | |
| Free Website Migration | | | | |
| Windows Hosting | | | | |
| Linux Hosting | | | | |
| Website Builder | | | | |
| Shopping Cart | | | | |
| Custom Error Pages | | | | |
| FTP Manager | | | | |
| Website Stats | | | | |
| Money back guarantee | | | | |
| Uptime guarantee | | | | |