How to Make Your Website Mobile Friendly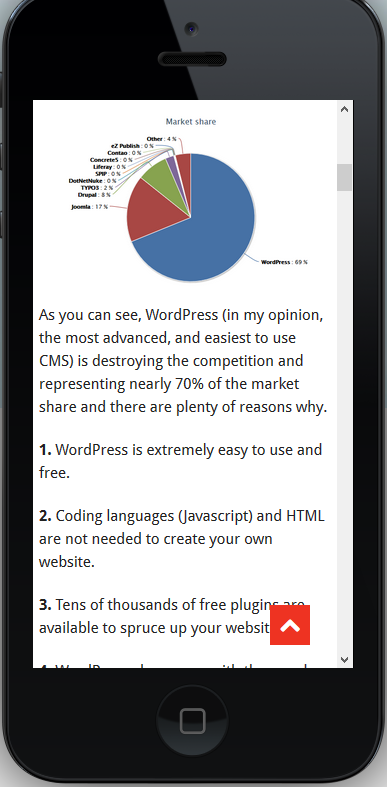 If you are reading this post then your website probably isn't the best looking on mobile devices, am I right? As you can see from the pic to the left, my site looks pretty good on mobile devices (the image I tested it on is Apple iPhone), it even includes the picture (undistorted) and 'to top of page' arrow. For me, mobile friendliness is not something I normally need to worry too much about because I use MyThemeShop premium WordPress themes which have a responsive design on all devices.
For those who use non-responsive premium themes or free WordPress themes, you will need to 'manually' make your theme responsive for mobile visitors. Don't worry though, you don't have to be a guru to fix your non-responsive website design (you may have to fork over a little $ depending on which option you decide on).
Checkout how your website looks on Mobile Devices
First things first, check and see if your website looks horrible on mobile devices, and find out which devices it fails on. I use the MobileTest.me to check out my websites on various devices, such as iPhone and iPad. After you have figured out what devices your website is non-responsive on you can correct the problem(s).
It should be stated that you need to worry about how your website looks on all mobile devices, since mobile users make up a big chunk of visitors, and there are even some who predict that mobile visitors will soon beat those who view websites on desktops, so ensuring your website is responsive on all devices is a must.
So How Do You Make Your Website Responsive On Mobile Devices?
The most obvious way is to get a new theme that is responsive. This normally means that you will have to pay for a premium, mobile friendly theme such as one from MyThemeShop.
If you have a free theme and want a free way to get it mobile ready then you can use the free WP Touch plugin from WordPress. It is one of the most popular mobile plugins, with millions of downloads and it has a decent 3.8 / 5 rating.
It is not the greatest idea to have to rely on an outside script for your website to work properly on mobile devices (it's a lot safer to just purchase a theme that is mobile ready), in addition the WP Touch is a rather bland way of having a mobile friendly website. If you want your website to look similar on both mobile devices and Desktops then this plugin is not for you, WP Touch strips out all of your website design and uses the same exact template for every website it is used on (which is not professional in my opinion). But its free so you can't expect it to be fancy.
Plugins to better the mobile friendliness of your website aren't necessarily a bad idea, especially if you are using it on a casual blog, but if you have the money for it, it is always much safer to purchase a theme from places like MyThemeShop that have 'built-in' mobile responsiveness.
Other Mobile WordPress Plugins
Mobile Plugin from Jetpack: Jetpack is a plugin monster, having dozens of functions such as website stats, comment control, related posts, video support and more. In addition to all of that, Jetpack also has a simple (non-advanced) mobile plugin that you can try out on your website.
WordPress Mobile Pack: As the name suggests, this is a 'package' plugin of mobile features. With the WordPress Mobile Pack you are able to slightly customize simple things like the color, fonts and are able to add your own logo. One bad aspect of this plugin is that the free version does not support Tablets. If you want Tablet support then you have to pay for the premium version.
MobilePress: A very simple mobile responsive plugin, easy to set up, has some custom appearance settings, but it hasn't been updated in over a year.
Outsource Your Mobile Responsive Project
Outsourcing is often a forgotten option when you are having WordPress website problems. There are many great freelancers out their that can easily complete projects, such as making a WordPress blog mobile friendly, the difficult part is finding those people.
Honestly if you are going to go with this option you might just want to buy a responsive theme instead, since outsourcing will cost you more than a premium WordPress theme would. But if you still want to go this route there are more than a few outsourcing or 'freelancing' websites that you can use to find people to help you with your WordPress project. I honestly don't have a favorite, but the two that I have used the most are freelancer.com and elance.com.
Depending on the project, Freelancers might cause you some headaches, but they are cheaper than web development/design companies, though communicating can sometimes be a bit of a problem since many of them are working from India. If you decide on outsourcing make sure you are very specific of what you expect when you post your project.
Why Should You Worry About Mobile Responsiveness?
If you don't have a mobile website you should. There are dozens of reasons why you need a mobile friendly version of your website, the most obvious being that you will lose out on traffic if your mobile website looks bad and the click through rate for your website will be hurt, which could affect how well you rank in the search engines. Bottom line, if you need to spend a little money outsourcing or on a premium WordPress theme to get your blog to be responsive on mobile devices, do so. It will pay off in the end.