Top Affiliate Networks For 2015
Extremely popular and having more money making potential than Google Adsense, affiliate marketing is a multi-billion dollar industry and is the main source of income for many bloggers. With a number of huge networks, affiliate marketing seems to be getting more and more popular, especially with the increases in the number of bloggers.
Affiliate marketing goes one of two ways, either the company who want to market their products to bloggers has a way to do so with a built-in affiliate marketing program on their own website (like GreenGeeks, the web hosting company I use for this blog), or they partner with a network to implement affiliate offers.
Those networks – listed below – take a cut, but also do a lot of the work for the company. This usually includes taking care of the administrative side of the affiliate program and helping affiliate marketers solve any issues.
There are more than a few affiliate networks available. I decided to pick 6 of the "best" networks to review, most of whom I still use to do this day. For a list of Ad networks, feel free to read our recent Google Adsense Alternatives article as well.
Why only six? Simple, if you can't find products/services to promote on your blog from these six networks then you are being too picky.
CJ Affiliate by Conversant (Formally Commission Junction)
Conversant (formally Commission Junction) is one of the largest affiliate networks available and, with the exception of Amazon, probably the most well known out of all of them. It has one of the largest inventories of merchants and is the most advanced when it comes to interface and features. You might even think of it as a "one stop" affiliate marketing shop.
A year or so ago it went through a big change in interface and now it is probably the best affiliate network when it comes to user interface (though it does take some time to get used to).
The amount of merchants available easily number in the thousands, getting affiliate code is easy, finding available advertisers is fun and you can easily track your progress in terms of accepted and declined applications in the 'advertisers' dashboard which will show you (and allow you to filter) your advertisers by 'pending offers', 'pending applications', 'declined applications' and more. Just be sure to have your ad blocker off on these pages otherwise results may not show up.
You can also live internationally in one of 14 countries (not including the US) and still be eligible to participate in the CJ affiliate network, see the list here.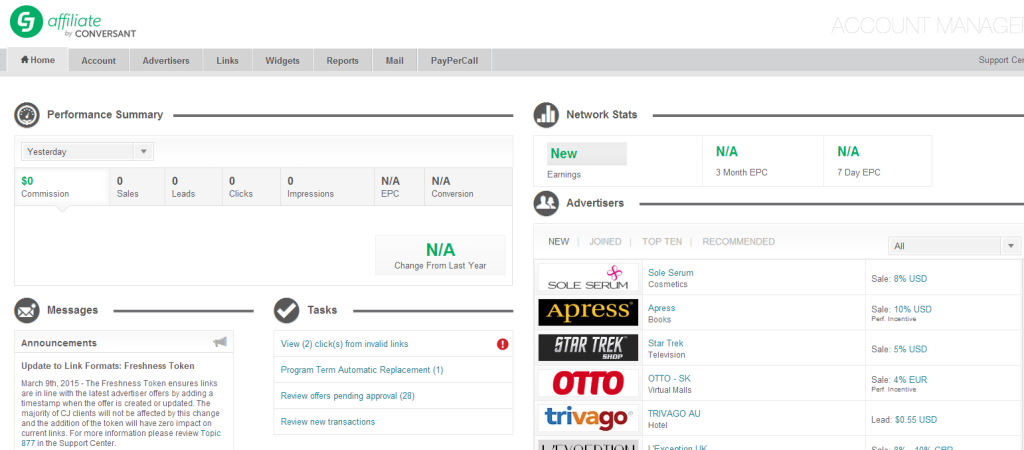 Pros:
Advanced interface
Huge network of potential merchant partners
Reliable payment at the end of every month
CJ allows people living internationally (outside of US) to participate in program
Cons
Bit of a learning curve to the user interface
Payment
Date
: Payment issued after a $10 minimum balance.
Payment Methods: Check, Direct Deposit
Minimum Traffic: None
More Info: CJ Support Center
Rakuten Marketing (Formally Linkshare)
Rakuten Marketing (formerly Linkshare) is an extremely old affiliate marketing network, but is smaller in terms of merchants when pitted against networks like CJ by Conversant. Still, this is a solid alternative to CJ. Actually it doesn't even need to be an alternative since you can use both networks as you see fit. 

While CJ seems to have a bit of a technological edge and numbers edge, Rakuten has a unique feature that separates itself from the pack. The network comes with a nifty 'ad rotating' feature. With it you can have your ads rotate to different versions of that ad, all with a single code snippet. So if you like multiple ad versions, no need to settle for which one you think is the best, simply select all of them and they'll rotate after one another on your blog.
That said, the program is not technologically advanced by any means. You compare this to a network like CJ…well there is no comparison. Just take a look at the picture below and compare it to CJ.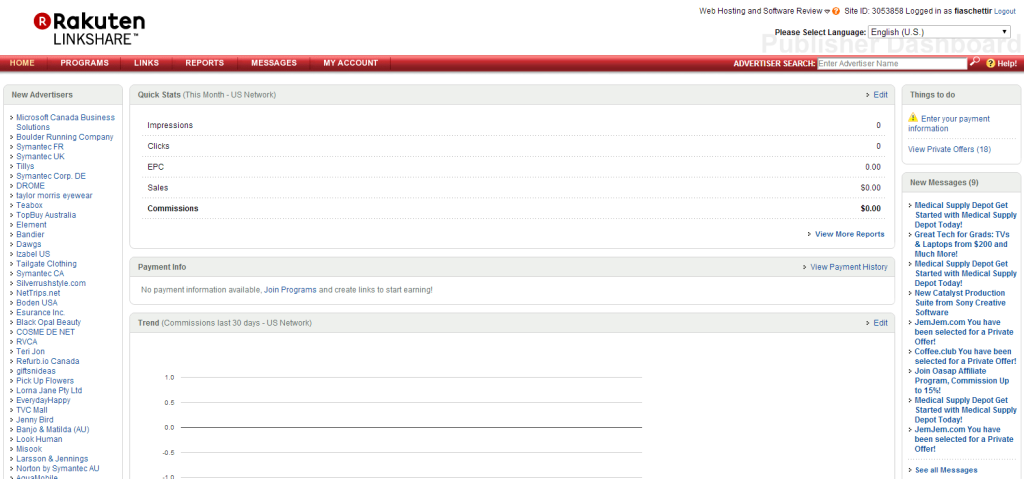 This doesn't make it a bad program though. In fact, it is known for being one of the best affiliate networks available. And while it doesn't have as many features as CJ, you still have access to all of the "needed" features such as deep linking, finding products, seeing advanced reports, etc.
As for payment, unlike Conversant which pays out on time every time, Rakuten waits for the publishers to pay them (which could take up to 30 days after "invoice date"). Then you will be paid at the end of that calender month. The payout goes something like this:
Calender month of affiliate income (January), publisher payment is due after 30 days of invoice by Rakuten (February), your payment is received (March). In other words, the payment is not only a cluster(insert bad word), it also normally takes about 90 days before you receive your commissions.
Pros:
Neat ad rotating feature
Deep linking
Easy to use interface
Cons
Smaller network of advertisers
Interface is a bit simplistic
Payment for affiliate marketers is a mess
Payment
Date
: After a minimum balance of $50 and after publishers pay the Rakuten network. Can take up to 90 days.
Payment Methods: Check, Direct Deposit
Minimum Traffic: None
More Info: Publisher Help Center
Avangate
This affiliate network may be only useful to those who wish to advertise software products, but it still ranks as one of the best thanks to its flexibility and support from staff. With Avangate you get "up to 75%" as an affiliate and are able to choose software products to advertise from an inventory of well over 20,000.
Avangate also has a very neat feature similar to the MyThemeShop affiliate program. They allow you to generate coupons for your website. This is one of my absolute favorite features, I wish the other affiliate networks had something similar. If you are into affiliate marketing you know how much discounts inspire people to buy products/services online such as WordPress themes.
The only negative to using discounts is that it comes out of your commission. So if you create a 10% discount coupon and are making 50% of the sale, you end up making (after the customer discount) 40%. In my experience the amount you make thanks to extra sales outweighs the amount you lose because of the coupon. Just don't go overboard and discount 20% on an affiliate product that you are only making 40% commission on.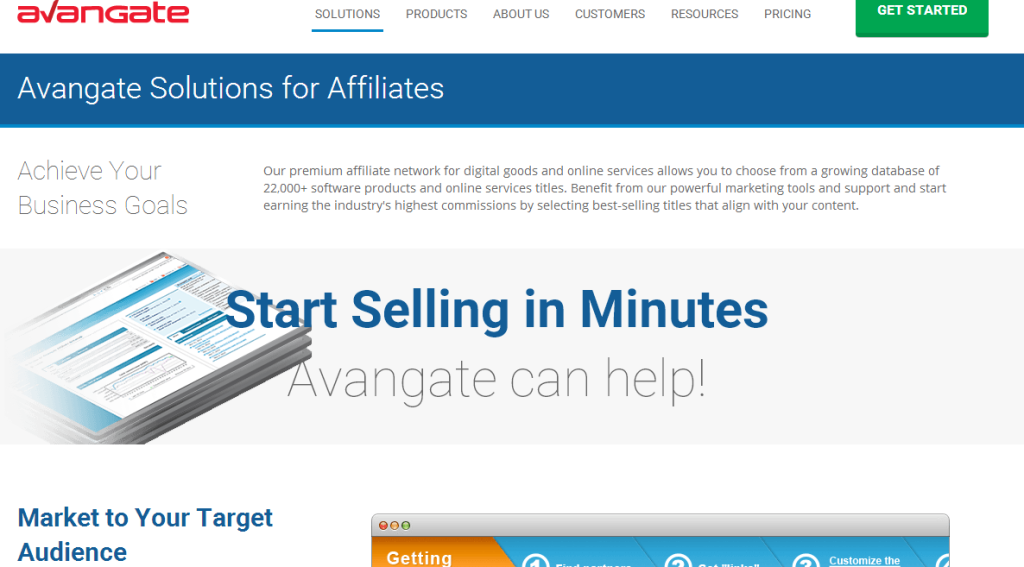 Pros:
Increase your CPA by using their unique coupon tool to generate discounts
Easy to use interface
Cons
Smaller network of advertisers
Only software products are available
Payment
Date
: 20 days after payment is due, 100 EURO minimum balance.
Payment Methods: Check, Wire Transfer, Paypal
Minimum Traffic: None
More Info: Affiliate FAQ
Amazon Affiliate
It shouldn't come as a surprise that Amazon Associates is the largest affiliate program available, with hundreds of thousands of affiliate partners promoting amazon products. Some websites even specialize in selling Amazon products through the affiliate program such as The Wirecutter.
It also shouldn't come as a surprise that Amazon comes with plenty of advanced and easy to use features such as widgets and even creating your own site store – though I don't see many doing this. New users should have no problem diving right in, especially considering most of what you are going to be doing is searching for products, copying the code and adding it to your blog.
You can even add a neat "shop at amazon" widget to your sidebar that allow your readers to search for products right from your website.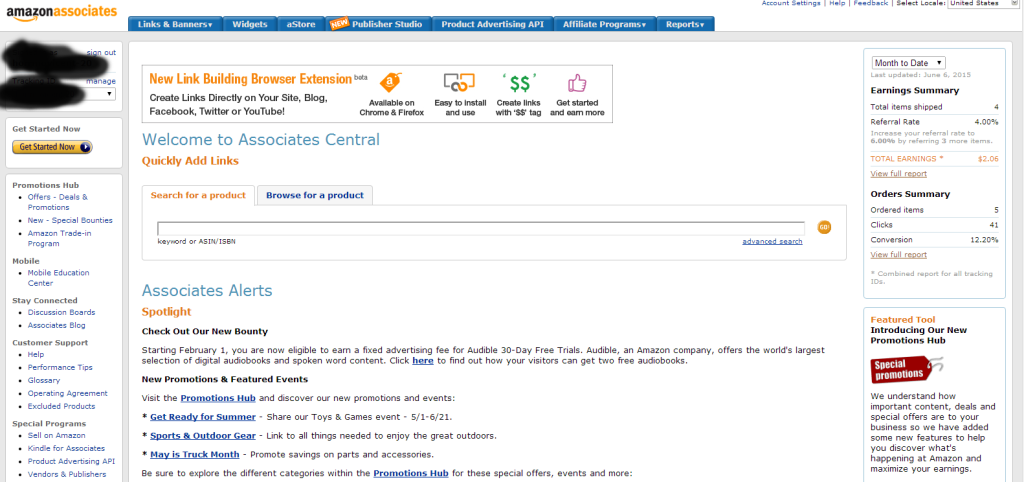 And while Amazon is a monster in the affiliate marketing world, the program still has a few negatives. For starters, if you violate any of their rules you could get booted out. This includes accidentally buying products without clearing your cookies. I've done this before and simply contacted the affiliate help department to alert them to not include the products I ordered to my commissions.
The most obvious negative to using Amazon is the commissions themselves. They are low, very low. Your Amazon commissions start at a measly 4% and you can (after enough sales) earn up to 8.5%. While that is a low amount compared to other affiliate programs like web hosting affiliates (which earn, on average, $100 per sale), with Amazon the conversion rate is a bit higher than most affiliate programs since Amazon is a trusted source and is able to convert visitors into buyers. Simply get your visitors on their website and let Amazon do the rest.
Pros:
Conversion is always a bit higher with Amazon products
Easy to use interface with advanced tools
Lots of flexibility
Huge inventory of products to choose from
Minimum balance before payment via direct deposit is just $10
Cons
Commissions start at just 4% and go up to only 8.5% after enough products are sold
60 days for payments
Payment
Date
: Sent 60 days after commissions are earned. Minimum balance before payment $10 for Amazon gift card and direct deposit and $100 for checks.
Payment Methods: Check, Amazon Gift Card, Direct Deposit
Minimum Traffic: None
More Info: Amazon Affiliate FAQ
ClickBank
ClickBank is another selective affiliate network that will only be applicable to certain people. That's because ClickBank only offers digital products – such as software and eBooks – limiting the types of products you can advertise.
While limited in the number/types of products you can advertise, ClickBank comes with the unique feature allowing you to promote products in several different languages. You can also get payments in about a dozen currencies and ClickBank has one of the least restrictive international policies for affiliate marketers, allowing affiliates to promote products in nearly every country.
Like with Avangate, ClickBank has a commission structure of "up to 75%" for their products. One other great thing about this network is that many of the products they sell are subscription based. So if you sell a subscription to someone, you will get commissions for however long that subscription lasts.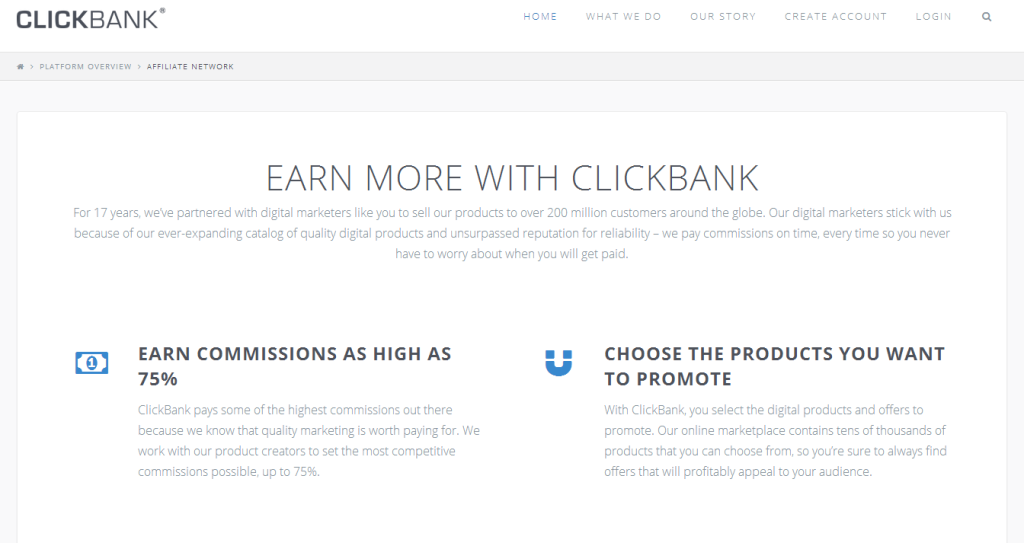 Pros:
Subscription based products earn you money every month
Huge network of potential partners for digital goods
Supports different languages and currencies
Cons
Not nearly as popular as other networks
Only has digital goods available
Payment
Date
: You pick your own minimum payment threshold (between $10 and $1,000,000)
Payment Methods: Check, Direct Deposit, Wire Transfer (in some cases)
Minimum Traffic: None
More Info: ClickBank Knowledge Base
ShareASale
ShareASale is right on par with CJ by Conversant as being one of the largest affiliate networks with over 3,900 merchants available. Categories range from cars and accessories to software and media.
With ShareASale you can easily create custom links using the 'custom link' feature in the account manager, and view available coupons offered by merchants in the 'deals database'.
The network goes above and beyond when it comes to data, giving you a run down on things like offers, how much you earn, average sale amount, average commissions and more. The interface, while offering plenty of reports, feels a bit dated in some regards, new users will also have trouble with it at first.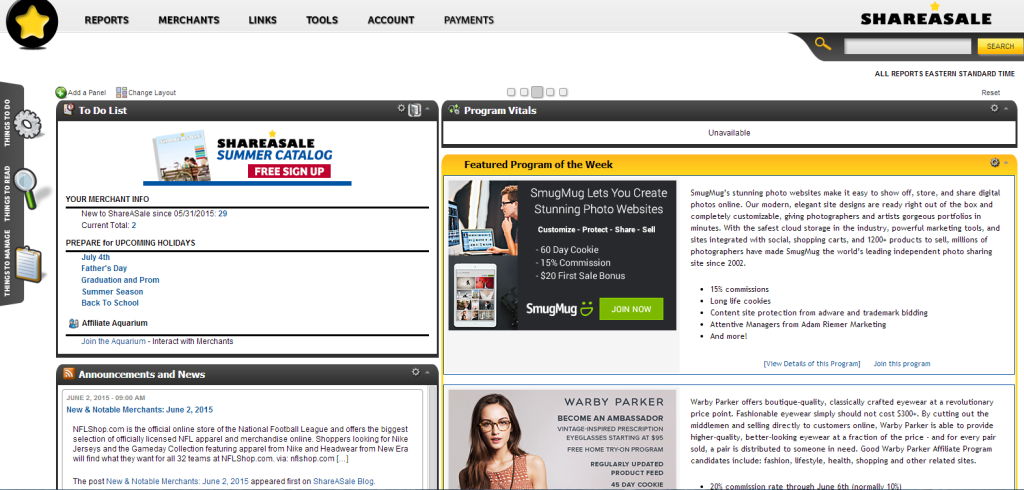 Pros:
Huge network with over 3,900 merchants
Easily create custom links and manage coupons
Quick, monthly payments
Cons
Payment
Date
: Payments are made the 20th of every month assuming you have a $50 minimum balance
Payment Methods: Check, Direct Deposit
Minimum Traffic: None
More Info: ShareASale Knowledge Base
Conclusion
You should know that there is nothing wrong with using multiple affiliate programs, even for one website. It can be a bit overwhelming though, attempting to keep up with everything – especially if you use affiliate networks and single affiliate programs. So it is always a good idea to use as few networks as possible, because you will probably be using single affiliate programs as well (such as with my web hosting – GreenGeeks, which manages all affiliates directly from their website).
If you want to keep things as simple as possible and use only one network, I recommend either CJ by Conversant (my current favorite), Amazon or ShareASale.