Where to Find WordPress Developers for Custom Jobs
While WordPress themes are easy enough to install, sometimes, scratch that, many times, the features you want in your WordPress theme are not able to be obtained through a free or even premium WordPress theme. You envision how you want your website to look only for it to be completely different of how you envisioned, so what can you do?
Sure you can do small customizations to your site easy enough, but for major changes you are at a dead end (unless you know coding). At this point there is one other option you can employ, you can hire one of the many "WordPress Pros" to do the job for you.
If you are needing a WordPress pro to do some work for you then you have plenty of websites you can use to find someone. WordPress is an extremely popular software and there are no shortages of people looking for freelance work when it comes to WordPress blogs.
Freelancer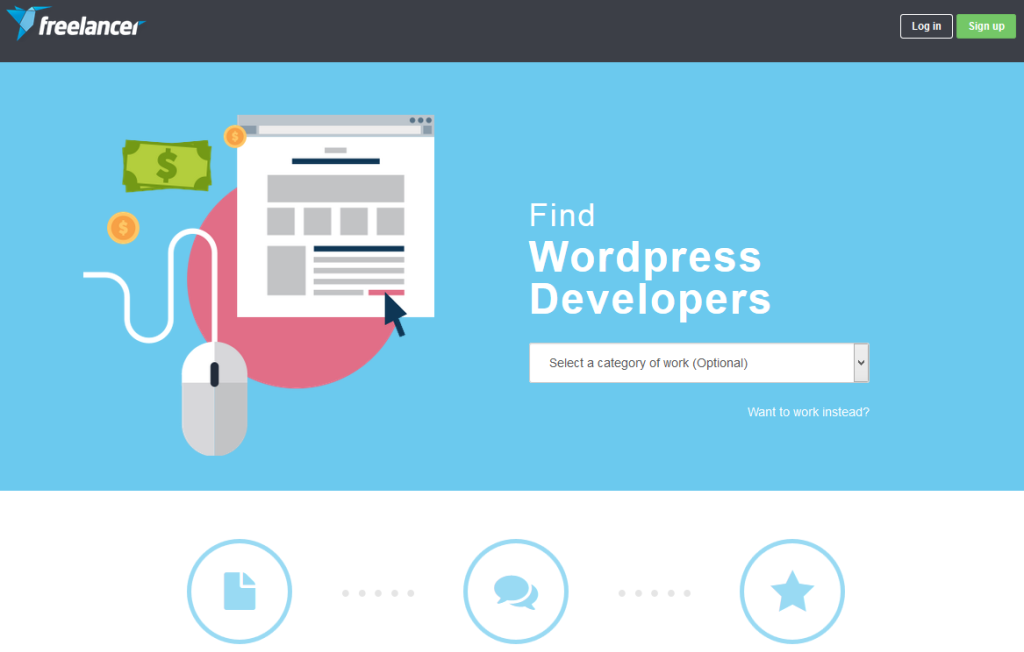 Freelancer is the most popular and largest website for freelancing and outsourcing, in terms of number of users and posted projects. They have over 620,000 WordPress developers and over 237,000 projects completed. With Freelancer, simply post your project and wait for your free quotes, it's that simple.
The site isn't free (of course), they charge a flat 3% fee of your posted project or $3, whatever is greater.
Visit Website
Envato Studios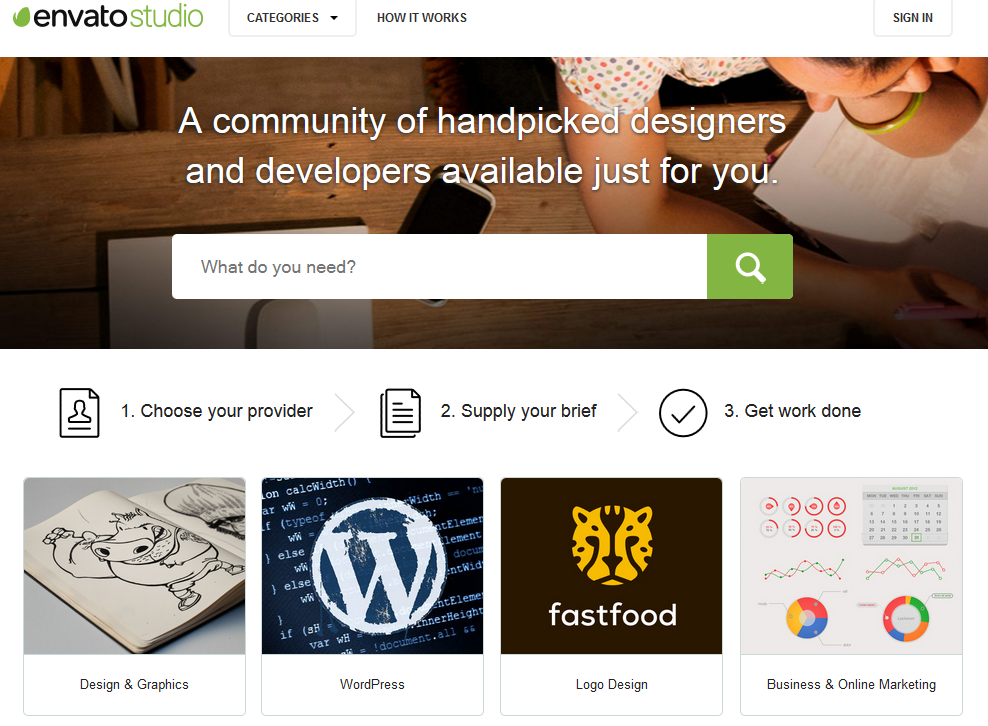 Envato Studios is another very reputable freelancing/outsourcing website you can use to find WordPress pros. The site is actually run by the same people behind CodeCanyon and Themeforest, the difference between them and other freelancing websites is that they heavily review all of their developers.
Visit Website
WPMU DEV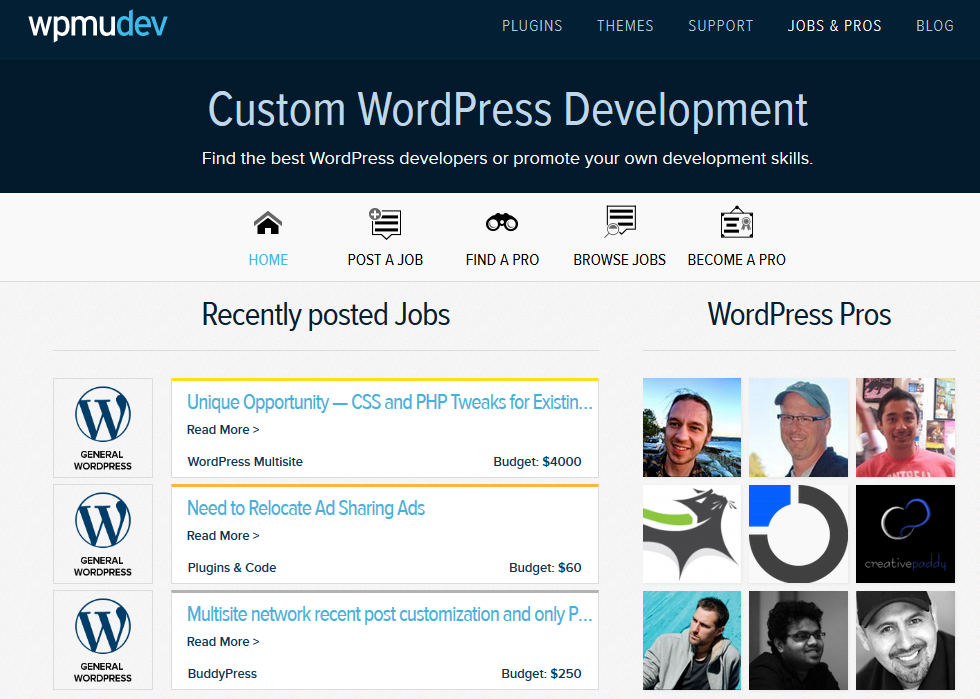 Wpmudev works like much of the other freelancing/outsourcing websites. You can set your budget, add the appropriate tags and easily find the best person who you think will be able to effectively get the job done.
With wpmu you are also able to view the history of the person who you are looking into and find out their 'community ranking', which tells you how involved they are in the forums.
 Visit Website
 WPJobs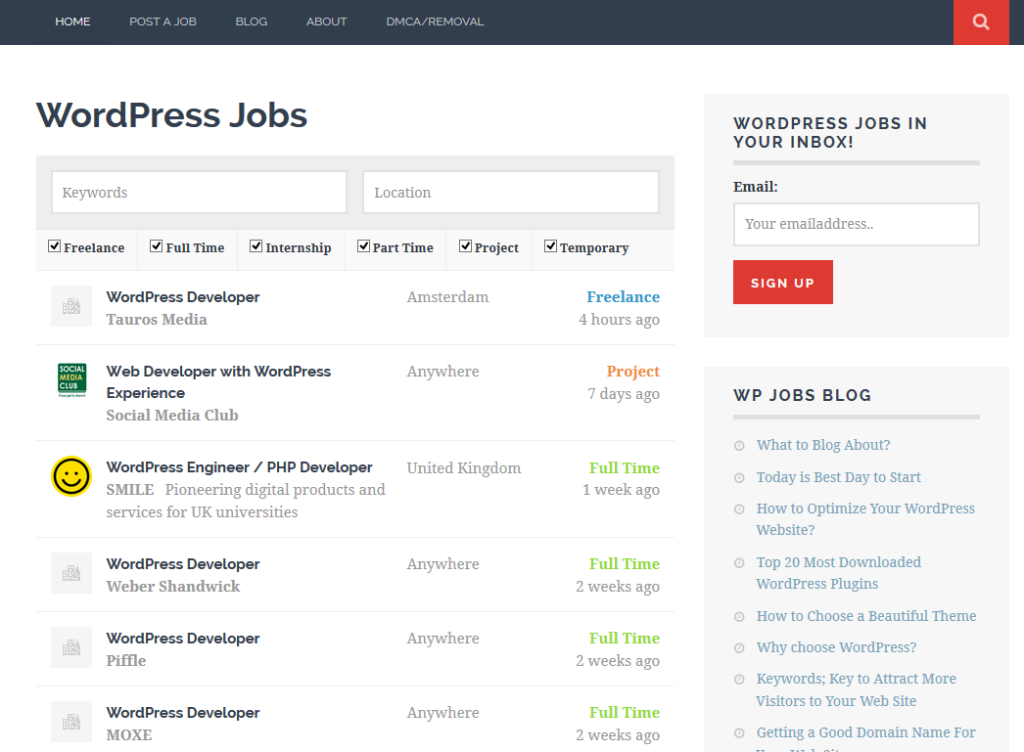 A very easy to use and simple (as well as free of ads) WordPress jobs board. Also unlike the many of the other outsourcing websites, this site does not charge you the usual small fee for posting a job…but only for one week.
Visit Website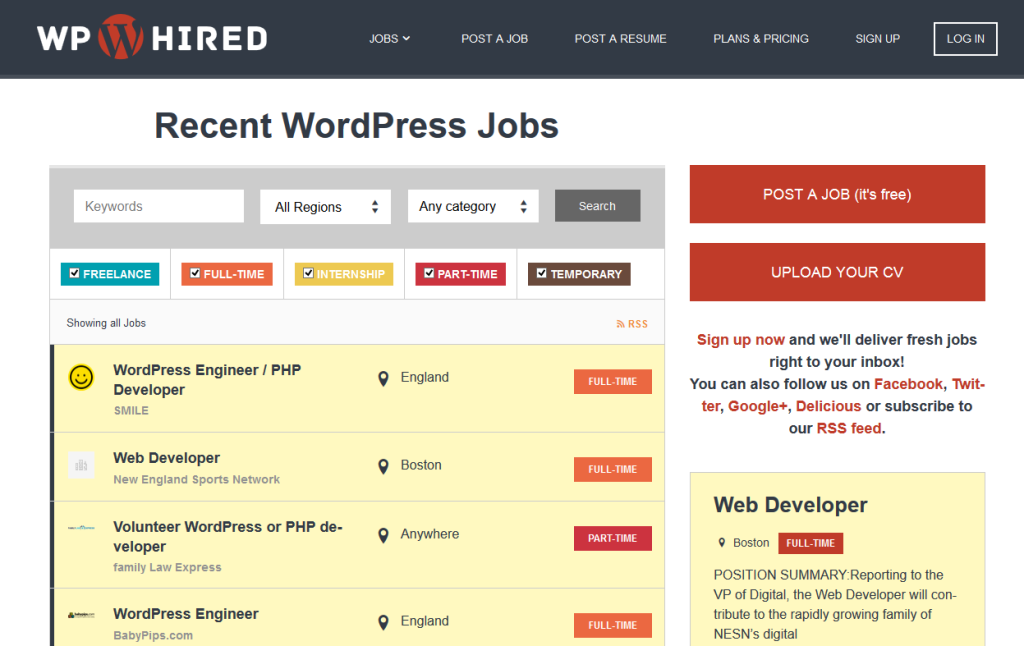 WPhired is another place to go to find freelancers. As the name suggests, WPhired is a site the specializes in WordPress jobs so it isn't as 'cluttered' as places like freelancer, but it also does not even break in the top 200,000 global rank on Alexa, so it might be a bit more difficult to find the 'perfect' WordPress pro.
Visit Website
Where Do You Go To Find The Perfect WordPress Freelancer
Finding the 'perfect' freeleancer to complete your required job might end up being quite the task. I've had to go through job posting after job posting before I found someone decent, who completed the work to my requirements (for those wondering, it was an article/guest post writing gig for one of my other websites).
When you post your job description, make sure it is extremely detailed and you tell those bidding (with a somewhat firm tone) what you expect of them. As someone who has experience in outsourcing projects, many, no most, of those who will be applying for your job will be from another country, mainly India, so you may have a little trouble when it comes to communication.
I have also, thanks to my experience in trying to find someone, found out rather quickly that if you are posting an article/guest posting job, you are going to have to be patient and probably have to go through several people before you find the 'perfect' pro.
Now where you go is entirely up to you. I prefer Freelancer because it is the most well known and they have some of the better freelancers (which isn't surprising since it is the most reputable outsourcing website), but you can go pretty much anywhere and you will eventually, probably after a few headaches, find someone who meets your requirements.