20 Best Responsive eCommerce WordPress Themes
In the age of internet mobile takeover, as prime essays inform, if you have a website where you sell products then you need it to be responsive on mobile devices such as iPhones and iPads if you don't want to miss out on important sales. If you have a WordPress website then you are in luck since there are more than a few ways to get your website to be responsive.
The easiest way to do this is to download a WordPress theme that is already responsive, here are some of the more popular responsive e-Commerce themes available.
Artificer
Artificer is one of the free eCommerce themes available on the Woocommerce website and is designed to allow web owners to make what their selling stand out more. It isn't all that advanced, it's free after all, but it is a responsive design that is particularly ideal for web owners who are selling arts and craft type products. Like all of the themes on this list Artificer looks good on all screen sizes.
Storefront
Storefront is another Woocommerce theme that has many of the same features as Artificer. You can sort products by category, have recent products posted on the front page, 6 header widgets, one sidebar widget and 4 footer widgets as well as basic customization options.
eMaxStore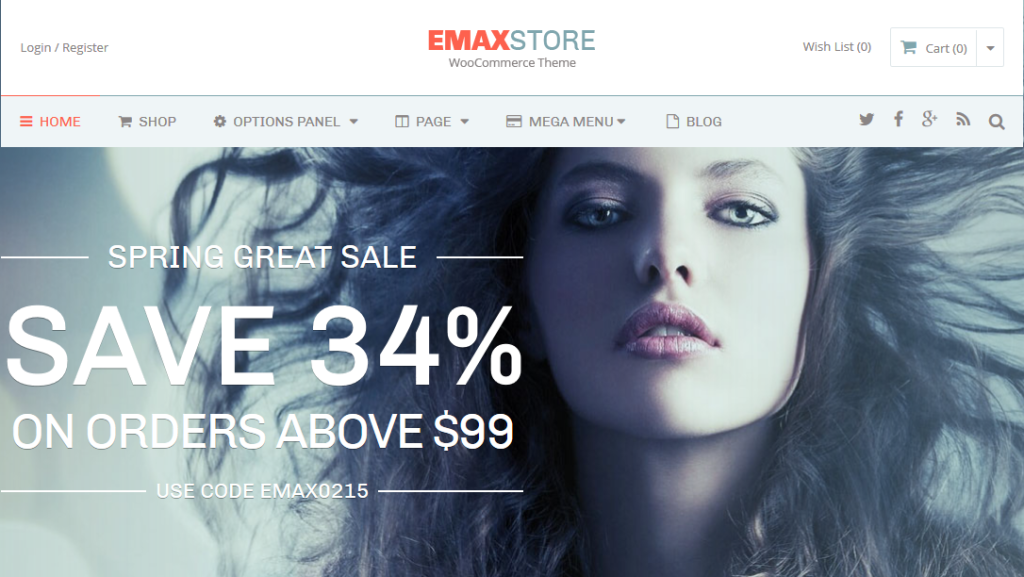 eMaxStore is one of the more advanced eCommerce themes. With it you can add a parallex slider to your front page to add some 3D effects to your site, add as many categories as you want, choose between 3 to 5 footer columns for your website, add related posts after each product, have both Ajax loading and Ajax filters for your store, add a mega menu which is great for advertising featured products and use any of the 17 custom widgets available.
Flat Responsive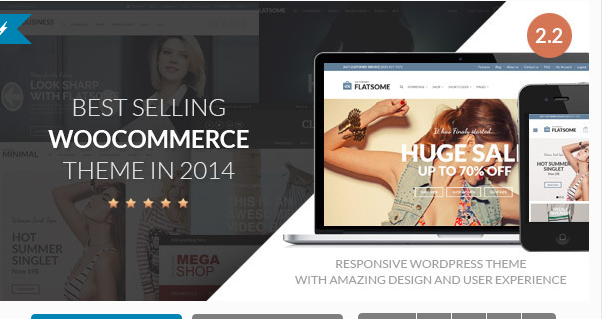 Flat Responsive is one of the most popular eCommerce themes on ThemeForest. Features include optimized sliders and banners, mobile responsiveness on all devices, unlimited sidebar and widget areas, over 500 fonts, a wish list feature, quick view, customizable home page and more.
Kallyas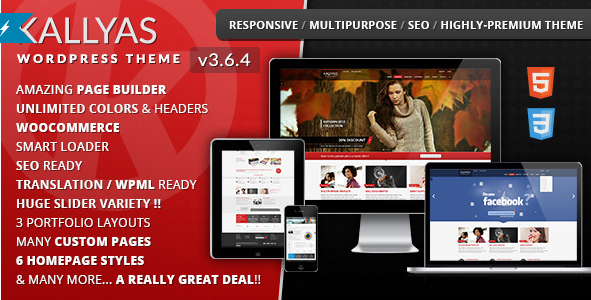 Kallyas is the most popular theme on this list, mostly because it is a multipurpose theme that can be used either for the basic blog, magazine type website or an eCommerce website. You have many of the same features as the above theme such as a wishlist feature, a smart loader, custom pages, discount badges among lots of other features.
Bazar Shop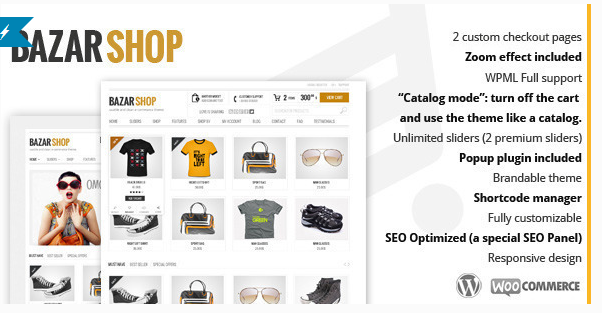 Bazar Shop is one of the few on this list that have multiple checkout pages. It also comes with over 300 shortcodes, a catalog mode, mega menu support and zoom in effects for your products.
eStore
As you can see, eStore is a very nice looking eCommerce theme. This isn't all that surprising since it's an Elegant Themes creation. With eStore you have all of the basic eCommerce features and more. You can change the look of your homepage or entire website with the epanel, add notes at the top of your products (such as buy one get one free or half price notes) to inform visitors of any sales or specials relating to that product and add related products at the bottom of every product page.
Boutique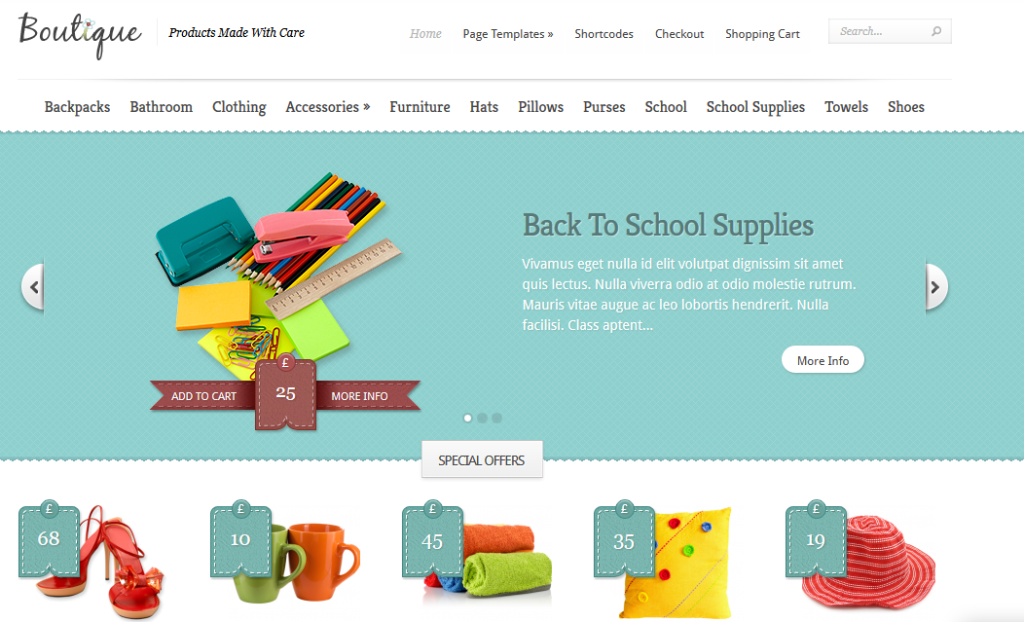 Boutique is a colorful eCommerce theme which comes with most of the same features as eStore since it's an Elegant Themes design. The only difference is that this one is more specialized, great for selling certain products (such as those advertised in the above picture) and other colorful items. This theme also comes with a nifty hover over feature that displays product info when a visitor hovers over any part of the product.
StyleShop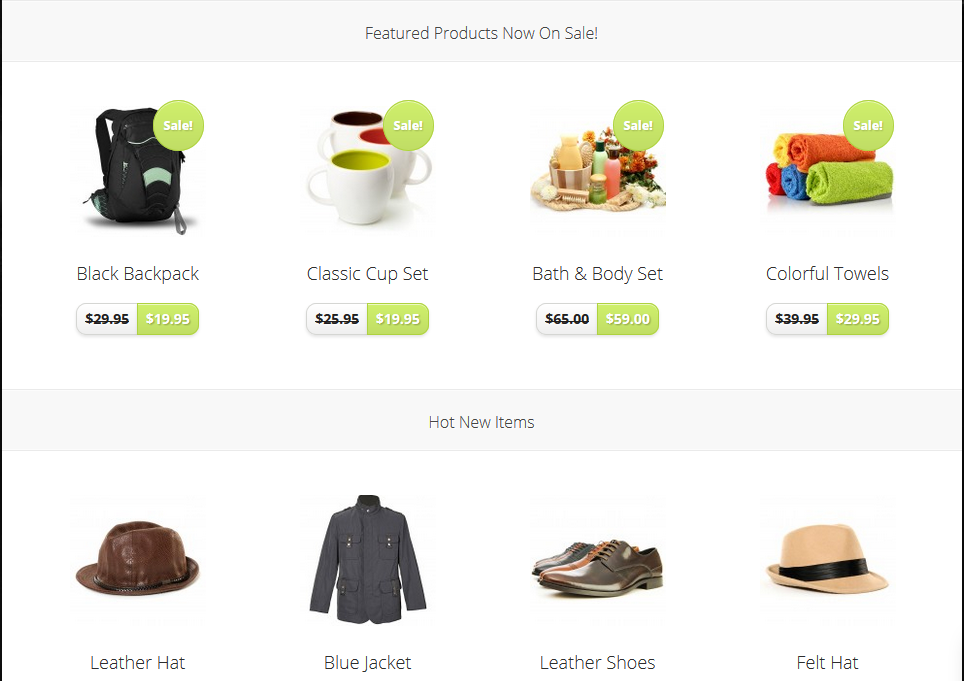 StyleShop by Elegant Themes has all of the same features as the previous two Elegant Themes designs, but isn't limited in it's use like Boutique is. You can use this theme with pretty much any eCommerce website.
Show Off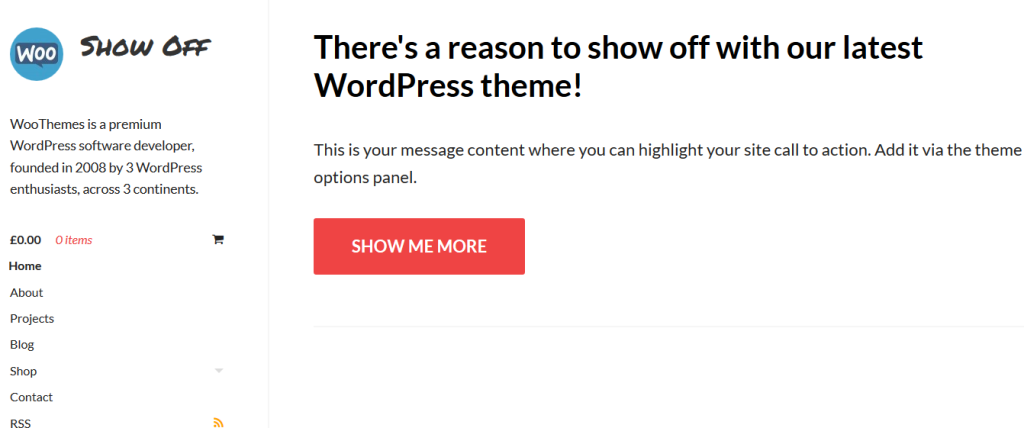 Show Off by WooCommerce is a not too advanced eCommerce solution that comes with all of the basic features such as shortcodes, product notes, price strike through and more. It also comes with an introductory message feature, testimonial integration and custom widgets.
Mystile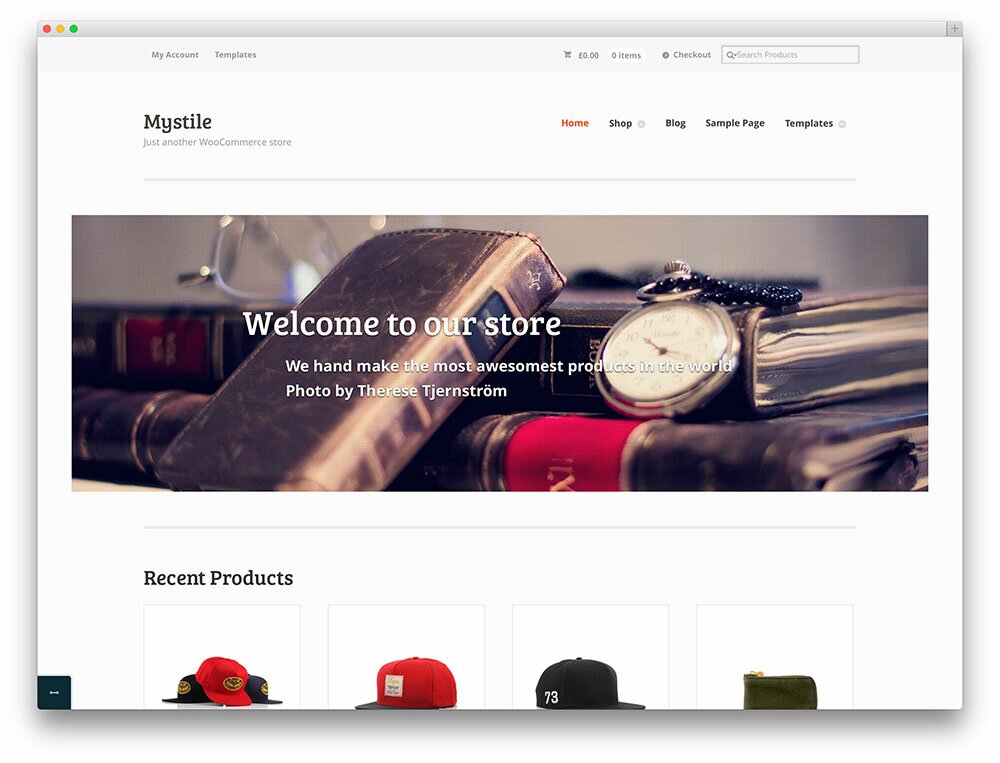 Not advanced by any means. Mystile is a theme by WooThemes that was created to be simple but effective. The WooTheme is responsive on all devices and has basic features such as built-in comment threads, custom widgets, multiple different colors available and the option to customize your homepage to your liking.
Wootique
The last WooCommerce theme on this list. Wootique is a very simple and possibly a bit bland of a theme fit for eCommerce websites. Despite being bland the theme has a decent set of features and plugins such as a featured product slider for the homepage, as well as a wish list feature.
Eco Gray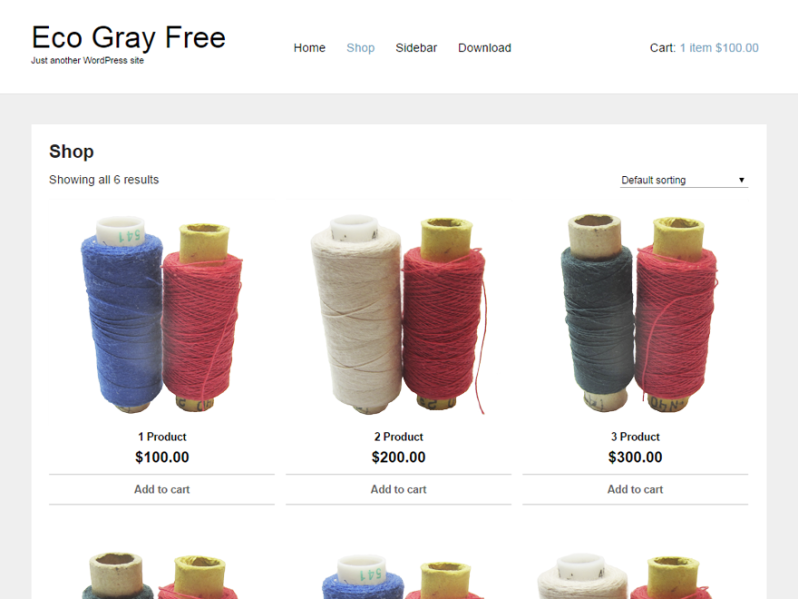 Eco Gray is a decent theme if you are wanting a basic and small eCommerce website. The them comes with basic features and has support for other plugins such as JetPack, Contact Form 7, BuddyPress and Google Fonts.
Maya Shop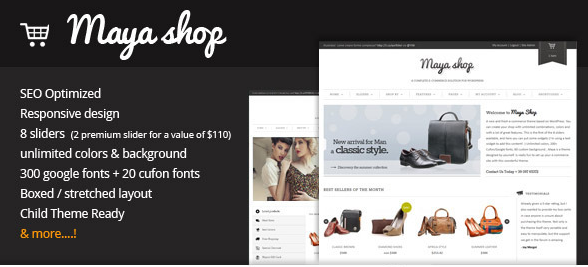 Maya Shop has over 10,000 downloads making it one of the more popular eCommerce themes on Theme Forest. It comes with all of the basics and also includes things like Google fonts, sliders for your home page, a comparison feature, a zoom in feature and more.
Neighborhood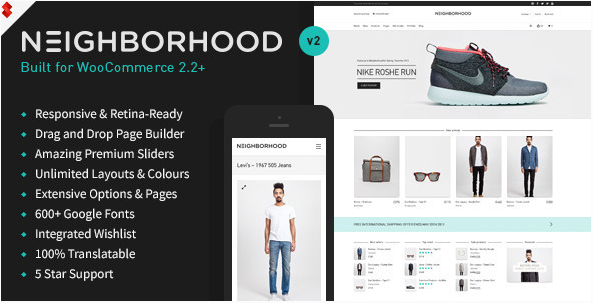 Neighborhood is another advanced theme for eCommerce websites. In addition to being responsive on all devices, Neighborhood comes with multiple footer areas to display things such as featured products and most popular products, a built-in wishlist feature, advanced sliders for your homepage and a product zoom function.
The Retailer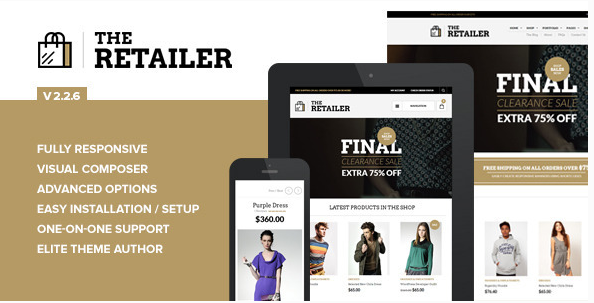 A multi-purpose theme that is particularly useful if you want a more feature rich eCommerce theme. The Retailer is responsive on all devices and has features such as a page builder, a homepage slider to advertise your popular products, custom widgets and over 650 Google Fonts.
Legenda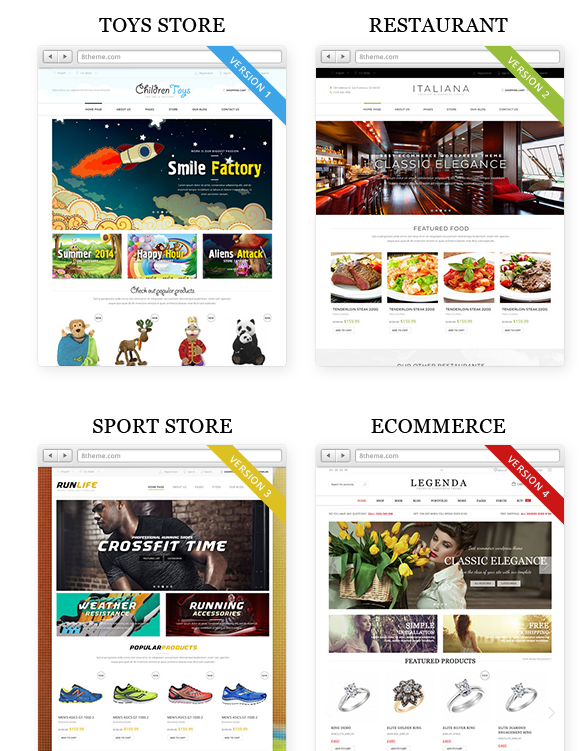 Legenda is another multi-purpose eCommerce theme that comes with 11 different theme versions making it easier to set up the type of website that you want. As far as features go you have things like an AJAX filter, multiple product page layouts, multiple blog page layouts (such as grid, lists, or timeline), different sliders for your homepage, charts, shortcodes, custom product page, testimonials and more.
Magazine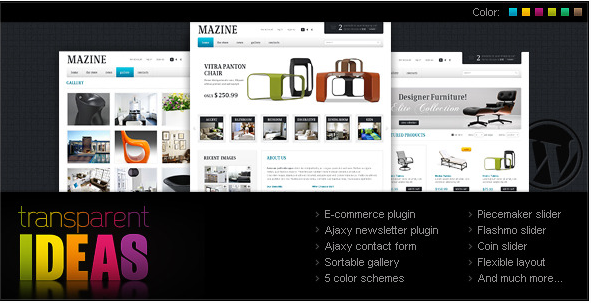 Magazine is a very flexible eCommerce solution that comes with a variety of features such as multiple sliders, an animated gallery, AJAX newsletter subscription widget and multiple color variations.
ShopDock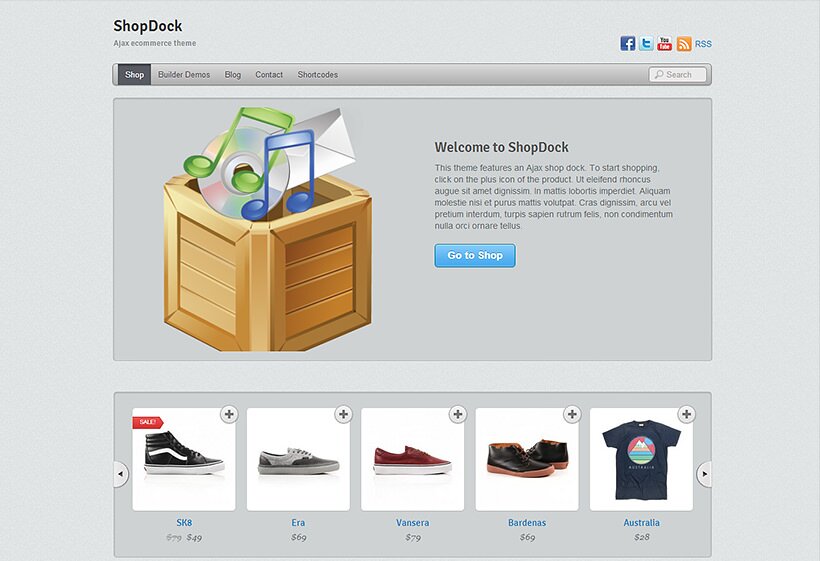 A mobile responsive theme from Themify. Shop Dock is particularly useful for those who are planning on selling general things such as digital products or games. Shop Dock works perfectly with WooCommerce and uses JavaScript so your visitors are able to easily add items to cart or delete items from cart without having to wait for the webpage to refresh. Some of the other things Shop Dock has included is a homepage slider that is easy to customize to fit your needs, AJAX, a listing and grid layout as well as other theme options in the theme settings panel.
Sommerce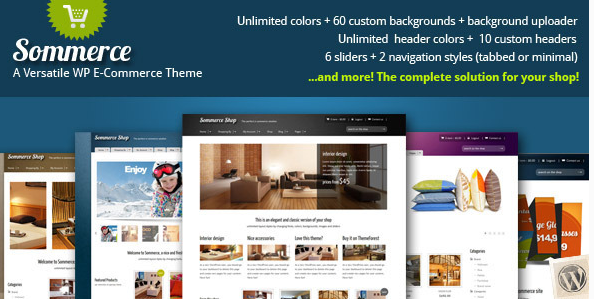 Sommerce is a very flexible WordPress eCommerce theme that comes with unlimited skins and layouts, over 60 custom backgrounds, multiple sliders for your home page, custom headers and different styles for your products.
Need More eCommerce Theme Options?
Check out the over 300 eCommerce WordPress themes on the ThemeForest marketplace.