Top Marketplaces to Buy and Sell WordPress Themes
The marketplace for WordPress themes and plugins is enormous. With reputable theme and plugin developers like Elegant Themes, MyThemeShop, StudioPress and more, the places to buy themes and plugins grows every year.
This shouldn't come as a surprise since WordPress is such a popular Content Management System.
Since there are so many places to buy and sell themes it may become a point of confusion or overwhelm you when you are trying to find a place to turn to when buying or selling WordPress themes. This article will be split into two parts. First we will look at some of the best places to sell themes and in part two at the bottom, we will detail the best places to buy themes from.
Where to Sell your Themes?
To start off, here is a list of the top three marketplaces where you can sell your themes.
ThemeForest

This place will not only rank as one of the better outlets to sell your themes from, but also a great place to buy themes from as well given the massive number available. 4900+ and counting, which is actually more than in the WordPress.org free theme directory.
If you are a seller, ThemeForest is great but is also lousy. It's great since ThemeForest is so popular and has a current Alexa traffic score of 153 as of this writing. This is good for sellers since your theme will have far more exposure, thus get more sales.
It's lousy since ThemeForest doesn't go all out when it comes to commissions. Your commission rate as a seller is only 33% if you sell your theme on other marketplaces. The commission rate is between 50 and 70% if you sell only on the ThemeForest marketplace.
In addition, you don't get to set what your theme will be sold for. That power lies with ThemeForest.
Mojo Themes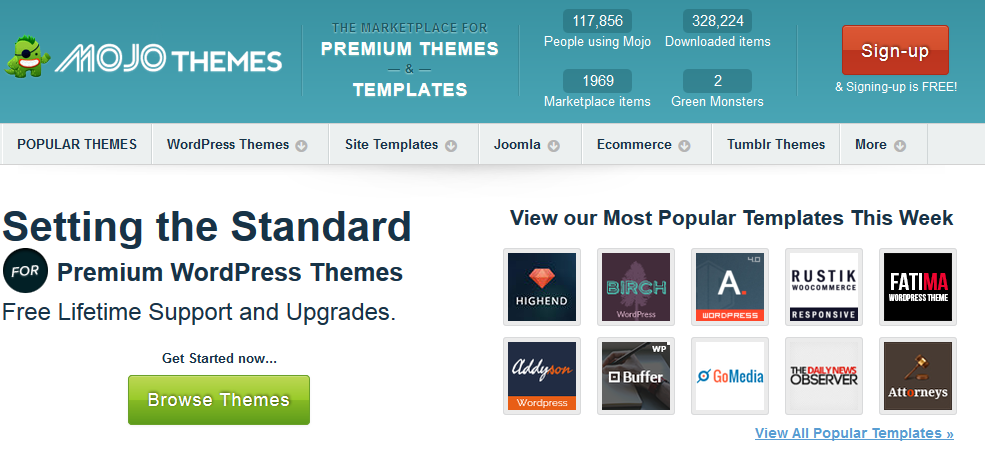 Mojo Themes is pretty similar to ThemeForest, with a few minor differences. The prices differ, ranging from less than $20 to upwards of $60 and beyond. Another difference is that there isn't as many themes available on Mojo Themes when compared to ThemeForest and the traffic is smaller (alexa rank 7,800) so far less people are going to see your theme.
If you sell your themes elsewhere, you can still rack in 50% commissions and 50 to 70% commissions if your themes are sold exclusively on Mojo. Also, unlike ThemeForest, you have to provide support to those who purchased from you.
ThemeSnap

As far as commission goes, ThemeSnap wins. You start at a a 55% commission rate and can eventually get up to 75%. But the best thing about ThemeSnap is that they do not penalize you for selling your theme on other marketplaces. Also, unlike with ThemeForest, you get to set your own price for whatever theme you are selling.
Another option you have is to, instead of just selling themes, can sell subscriptions similar to how Elegant Themes and WPMU-DEV work.
Which theme marketplace is the best for sellers?
A difficult question to answer as they all have their benefits. From a seller's perspective, in terms of payment and flexibility, ThemeSnap is the winner hands down. They allow you to work your way up to a 75% commission level, allow you to set your own price and sell your themes on other marketplaces without being docked out of payment.
Of course, commission levels shouldn't be all that you are worried about. ThemeSnap also has a 61,639 Alexa traffic rank, compared to Mojo Themes 7,800 rank and ThemeForest's impressive 153 rank. So, while it's true that you have greater flexibility and higher commissions, far more people will see and potentially buy your theme on Mojo and ThemeForest.
Where to Buy Themes?
Here are some of the most reputable and popular places to buy WordPress themes.
ThemeForest

Not my first place to go when searching for a theme. ThemeForest is first on this list only because of the wide variety of themes available. They actually have more themes available than the WordPress.org theme repository. Theme prices range from a low of $20 to as high as $70, while most themes are in the middle at the $45 level.
There are a couple things to know about ThemeForest before you purchase a theme from them. First, it is not required for theme authors to provide support or updates for your theme. So there is a always a chance that if you run into errors you won't get help, or that your theme won't be updated to be compatible with the next WordPress version.
If you plan on purchasing a theme here then I would highly recommend that you look at the comments and see if the seller is responding to concerns. Also see when the last update happened. Typically it is a good idea to buy a very popular theme on ThemeForest, that way the seller will be 'forced' to continue the updates to keep the $$$ flowing.
MyThemeShop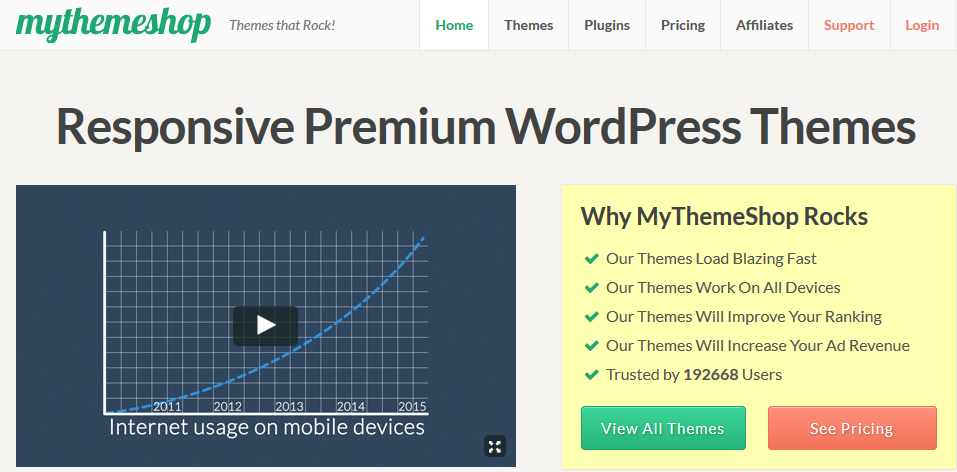 This is my first, go to marketplace when I am searching for a new theme (it's also the theme shop this blog uses). With MyThemeShop you can either purchase a membership plan and have access to all 84 themes and plugins, or simply buy themes one at a time, which all go for $45 per theme or $87 for the membership plan.
In terms of cost, MyThemeShop is one of the better available. $45 per theme is about average, but all themes you buy from MyThemeShop come with lifetime free upgrades and support. You save even more if you purchase a membership plan and get access to all themes for life.
Elegant Themes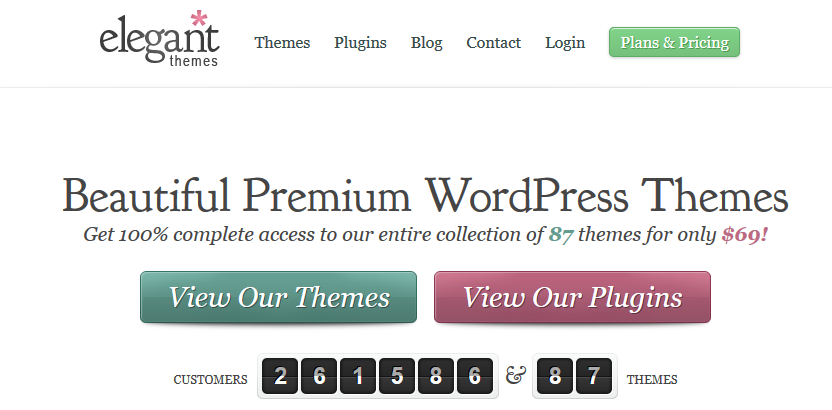 This is one of the most well known theme marketplaces. Elegant Themes is membership only, meaning you can only access the themes if you purchase a recurring $67 membership plan or buy a one time $249 membership plan. After that you get access to all 87 themes and updates, as well as the few (and not very impressive) plugins that Elegant Themes offers.
While in the long run the price is OK, the Elegant Themes control panel where you customize your blog is a bit simplistic compared to MyThemeShop and many of the themes from ThemeForest. Still, many of the themes look great, especially for blogs, I've just never really taken to ET themes but I know many other WordPress users love ET so they are on the list.
Which theme marketplace is the best for sellers?
Well, if you want feature rich, but not expensive themes, then I always recommend MyThemeShop. Their pricing is great. They also have some of the best looking and responsive themes I've ever come across. The WordPress.org website even says this about them:
"Rock Solid Framework
Friendly Premium Support
Loads Fast, Looks Pretty"
It's all about preference though. Elegant Themes I've never really taken a liking to, but I know many others have. And ThemeForest is a great place to turn to when you can't find your desired theme anywhere else. I always recommend TF last since you won't be guaranteed to get lifetime support and upgrades. Your first stop when searching for a theme should be a reputable developing company like ET and MyThemeShop. Marketplaces like Mojo and ThemeForest should always be a last resort.