7 Impressive WordPress Plugins to Display Charts and Graphs
It's common knowledge that pictures of data, such as graphs and charts, help readers sort out information and can even boost a blog's social sharing.
It's fun and a great way to get backlinks and social shares by posting things like statistics and case studies, but you need a way to help visualize the data for your readers.
In other words, you should be using charts and graphs to help readers better understand information. It's easy enough to slap together a PowerPoint presentation but how does a blogger use charts or graphs in one of their articles?
The simplest solution is to install a plugin to do the job for you. Even though graph and chart functionality isn't built into the WordPress software, there are still a few great plugins you can use to insert charts or graphs into your blog posts.
Here are some of the better chart/graph plugins available.
Recommended Reading: 50 Essential WordPress Plugins Every Blogger Needs
WordPress Charts

Cliche name sure, but WordPress Charts is the most popular, free charts plugin in the WordPress.org plugin directory. It currently has over over 8000 active installs and a solid 4.8/5 rating.
WordPress Charts enables you to create 6 types of charts/graphs, these are:
Bar graph
Pie chart
Line graph
Polar area
Radar chart
Doughnut graph
The plugin is also fully responsive, which means that your charts and graphs will be displayed perfectly on all devices. These charts are also able to be customized and you can even add animation effects to them.
If you are worried about saving load time then this is also a great option. After the graphs are optimized the charts are only 4.5 k. Lastly, WordPress Charts comes with a neat widget that makes it so that you are able to display your charts or graphs in the sidebar area of your blog. There are also, supposedly, other features coming soon such as additional widget options, color pallette options, a chart key table and more.
Responsive Charts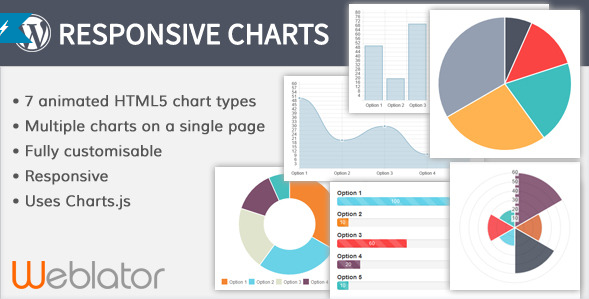 Probably the most advanced chart plugin on this list. Responsive Charts has most of the same features as WordPress charts but also has a few other things going for it such as being fully customizable which allows you to tweak settings like the position, font size, font color, etc. It also comes with 7 animated charts to choose from, these are:
Pie chart
Bar chart
Doughnut chart
Polar chart
Radar chart
Progress bar
Line chart
Visualizer

While it isn't as popular as WordPress Charts, Visualizer actually has more features than WC and supports 9 HTML5 charts instead of the 6 that WC supports. These charts are:
Column graph
Line graph
Bar graph
Geo chart
Candlestick chart
Scatter chart
Pie chart
Gauge chart
Area chart
The free plugin also comes with detailed documentation which helps you understand how to create or edit and even clone your created graphs/charts. As mentioned above, it's not as popular as WordPress Charts but it still has over 7000 active installs and a near perfect 4.9/5 rating.
Google Charts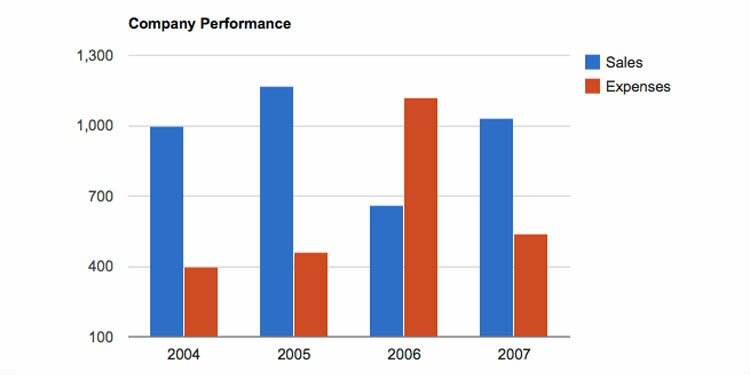 The Google Chart plugin is a nice cost saving premium plugin available on the CodeCanyon website for only $8. The plugin supports the following seven charts and graphs:
Pie chart
Bar graph
Line graph
Column graph
Bubble graph
Area chart
Stepped area chart
This plugin is also one of the more advanced, having impressive features such as support for 3D pie charts, fully responsive, live backend preview, customizable and more. Though the real plus to using this plugin is how easy it is to use.
Google charts takes your data straight from your Google spreadsheet in order to display your charts. Because of this, it is far more easy to use than some of the other options on this list, especially the free chart plugins.
On your WordPress dashboard you can simply click to add a new graph or chart, choose what graph or chart you want to create, then put in the URL to your Google spreadsheet. After you do this you will be prompted to add a shortcode to your post or page in order to display the chart.
Easy Chart Builder
One of the more popular free options, Easy Chart Builder may not be as popular as WordPress charts but it still has a decent 4.5/5 rating and 6 charts available. These are:
Pie chart
Line graph
Vertical bar graph
Stacked bar graph
Horizontal graph
Stacked horizontal graph
One possible reason for the lower rating is that Easy Chart builder isn't as simple as many of the other plugins listed here. To make a chart or graph you will have to use a specialized shortcode provided by the plugin. The developer of the plugin has an in-depth tutorial for creating charts/graphs if you need help.
Charts Ninja

Another free option is the Charts Ninja plugin. With Charts Ninja you are able to easily create charts via the external website. Simply navigate to the Charts Ninja website after signing up for an account, where you will be able to create your charts and graphs with the simple interface provided.
After you have created you desired charts you will be provided a shortcode which you simply need to copy and paste onto your WordPress post. The shortcode will be converted via the Charts Ninja plugin into your created chart/graph.
Unfortunately the free version of Charts Ninja only supports bar and pie charts and you don't have too many customization options at your disposal either. You are given the option of upgrading for $2.99 / month granting you access to other charts, graphs and features.
RJ Quickcharts

As the name implies, RJ Quickcharts allows you to build nice looking HTML5 charts in just a few minutes. Simply select a type of chart, choose a few customization options and add all of your data. It's that simple. Current charts supported are:
Bar chart
Line chart
Pie chart
Which chart plugin is best?
All features and chart types considered, when it comes to the free options the plugin that stands out the most is WordPress Charts. It has support for all of the needed features such as customization and supports all of the chart/graph types that most users will need. Responsive Charts is probably the best plugin on this list but it is a premium option from CodeCanyon. If you would rather not pay for your chart/graph plugin then I'd go with WordPress Charts, but if you want the most feature rich plugin then Responsive Charts is probably your best bet.